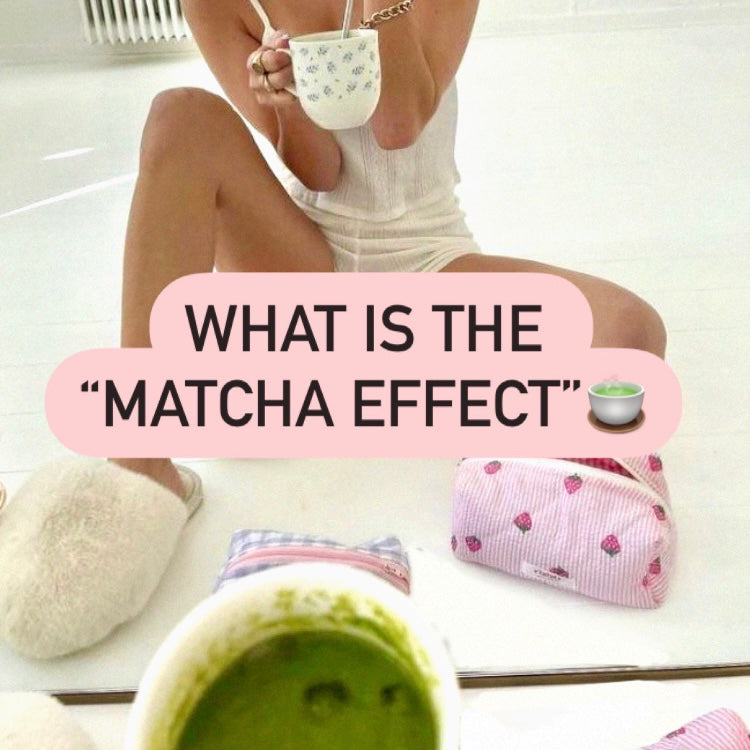 What is the "Matcha Effect"?
A couple weeks ago we found a TikTok of a fabulous girl claiming that ever since she started drinking Matcha, things have been going her way. We got inspired and thought about this "Matcha Effect" real hard... This post is an outcome of many discussions we've had about it since. Enjoy the read!


Matcha has become really popular in the recent years. Your Pinterest boards are probably full of it now and honestly, there's a good reason for it! You know That Girl? Pink Pilates Princess? Guess what, they all drink Matcha.

See, Matcha is essentially a powdered green tea and that on it's own comes with many benefits! It's great for your skin, it has a lot of antioxidants, it's hydrating - and that's just the tip of the iceberg. We have covered some interesting green tea facts in another blog post, but this time we want to talk about the psychological effects of Matcha that often go unnoticed.
Welcome: "The Matcha Effect"!

Over the past few months we've seen people repeatedly claim that drinking Matcha on a daily basis has greatly improved their lives. They report feeling less stressed, more lucky, and things just "come their way". But... Is it really possible? Let's break it down.

There's no one thing in Matcha that actually provides those benefits. As much as we'd like it to be, it is not a magical potion. We can't, however, underestimate the cultural context of this emerald elixir! See, our minds hold incredible amount of power over our lives. When you see something everyday and start to surround yourself with it, you will be drawn to it. Let's get back to your Pinterest boards for a moment: all these trendy aesthetics are about owning your life and being your happiest self. They also happen, more often than not, to include drinking a lot of Matcha! And IF there's a connection between success, happiness and Matcha, it's only that all those amazing, inspirational lifestyles have already incorporated it into their daily routines.

Your life won't get automatically better by just drinking Matcha, especially if you're not the kind to be influenced by others - but if you think about it, making yourself a delicious drink and cherishing the moment can be one super important part of selfcare and there aren't many things more powerful than that.

In short - Matcha is becoming a symbol of getting your sh*t together and finally becoming your dream self, whoever that could be. Whether you want to relax and live a calm life full of wellness or just girlboss through, having a cup of Matcha every now and then can't hurt... and maybe - just maybe - can actually help you achieve your goals!
photo: @lucyalicelook