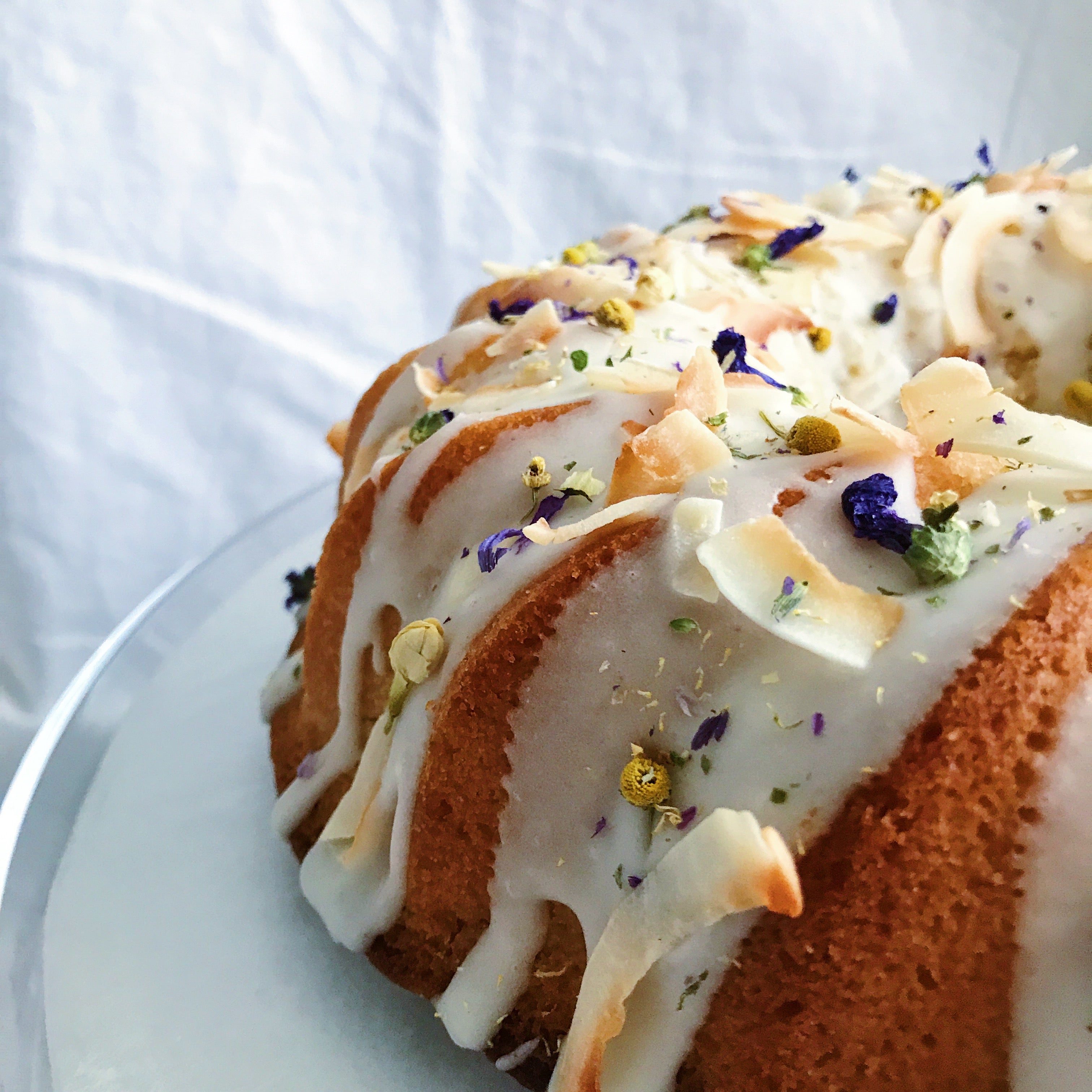 Lovely people of Teapsy - let me present you the beautiful, tasty, moist coconut-lavender-chamomile
gluten free & vegan
cake by
Lexie
.
We tried it, we love it.
Recipe made just for us using our 
Moondust
 tea - as a Teapsy launch cake.
We seriously couldn't dream of anything better - truly magical experience.
Without further ado,
Moondust Vegan Cake


Ingredients:
3 cups gf flour
2 cups ground desiccated coconut (grind using a food processor or a coffee bean grinder)
2 cups tinned coconut milk (you can use 1 tin of coconut milk and replenish to 2 cups using any non-dairy milk)
1 cup oil
1 tsp vanilla extract
5 Moondust Teapsy Teabags
6 tsps white vinegar
4 tsps baking powder
1/2 tsp baking soda
1 3/4 cup golden caster sugar 

Glaze:
1.5 cups icing sugar
7.5 tsp non-dairy milk (ideally coconut or almond)
1/2 tsp vanilla or coconut extract 
Toasted coconut shavings for decorating (you can toast them in an oven for 3mins at 180ºC)


Method:

Start by infusing the coconut milk with 4 of the amazing Moondust teabags by bringing the coconut milk to a gentle boil and immersing the teabags. Leave for 3-5mins. Remove the teabags and leave the infused milk to cool completely at room temperature. 
In a separate bowl, beat the oil and sugar together. Add the cooled milk, ground desiccated coconut, vanilla extract and vinegar. Mix well. Sift the gf flour, baking powder and baking soda and add to the liquid mixture. Beat lightly to remove lumps- fold through using a spatula a few times before pouring the mixture into a greased cake tin or mould (this mixture is ideal for a 9-10" cake tin.
Bake at 180° for 40mins or until the skewer comes out clean. Leave to cool completely before decorating and devouring.
Make the glaze by sifting through the icing sugar. Add the vanilla or coconut extract, and gradually add the teaspoons of milk until the consistency of the icing is pourable rather than spreadable. Transfer the glaze into a piping bag and decorate as you wish. Use the contents of one of the Moondust teabag to decorate the cake together with the toasted coconut shavings. 
Enjoy! 


How does it taste?
Okay, I am a huge cake-lover. To me they're all beautiful - small or big, with icing or naked. As long as it contains sugar, I will probably love it. 
But this one's special. I might be biased (as it is basically made of one of my favourite blends), but this one's special.


You can feel the infused lavender and chamomile throughout the cake - with this coconutty hand holding you the whole time. It's authentic. It's great.
The texture - as opposed to many other vegan cakes i've tried - is moist, full and rich. 
Soft & dreamy - Delicious on every bite.
Plant power!


If you'd like to recreate this beautiful cake please send us some photos on Instagram - we are very curious of your decorations!

Don't forget to tag us @teapsy_official and @lexiegrech as she's the mastermind who created this beauty.

Bon Appetit!