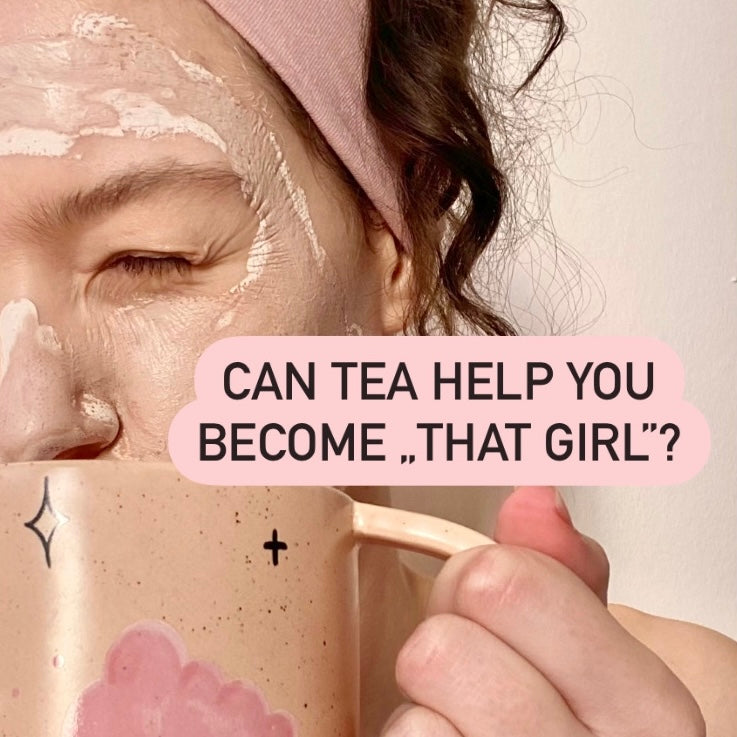 Can Tea Help You Become "That Girl"?
We all know "That Girl", right? the one who wakes up with the sun, slays her daily goals, and radiates positivity? If you ever felt like this is who you want to be or maybe you just want to discover this productive, wellness oriented lifestyle then this guide might be just for you! Also, definitely read this guide if you want to drink more tea ✨


Rise and shine
Start your day on a bright note by waking up early and giving yourself some me-time. Brew a cup of tea and sip it while doing something that makes you happy, like journaling, dancing around your room, or singing in the shower. The earlier you start, the more time you'll have to rock your day!


Nourish your beautiful bod
Your body deserves the best, so treat it with nutrient-packed foods that will give you the energy to conquer the world. Try making a delicious smoothie bowl with fresh fruits, or have a fun dance party to get your heart pumping. And don't forget to hydrate with water or your favourite herbal tea!


Feed your mind
Your mind needs love too, so don't forget to take care of it! Take a break from the hustle and bustle and indulge in something that brings you joy, like reading a good book, listening to a motivating podcast, or taking a peaceful nature walk. And, of course, don't forget to schedule in some self-care, like a bubble bath or a colourful mani-pedi.


Get your groove on
Exercise doesn't have to be boring - make it fun and find something that excites you! Try a dance class, go for a scenic bike ride, or join a kickboxing class with your bestie. Not only will you get your blood pumping, but you'll also be having fun while doing it.


Positive vibes only
Surround yourself with people who lift you up and support your dreams. Find a tribe of inspiring and like-minded individuals who will encourage you to be your best self. And remember to be kind to yourself, celebrate your wins (big and small), and embrace the journey!


By incorporating these tips into your daily routine, you'll be one step closer to becoming "That Girl" - confident, happy, and unstoppable! 

We love supporting positive lifestyles and when tea is such a big part of our day-to-day, why not drink tea that actually fits the way you want to live? Take a look at our selection of funky, flavoured tea that might just help you become "That Girl" and so much more!